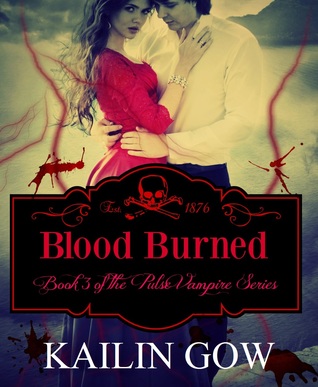 Kalina has returned back to Rutherford, but now there are more problems than before. The Consortium of Vampires has been destroyed except for one - Octavius - and the most powerful of vampires has been unleashed. This sets off the ultimate horror - one of the Greystone Brothers has been turned, and his love for Kalina has turned into a destructive obsession. Now armed withKalina has returned back to Rutherford, but now there are more problems than before. The Consortium of Vampires has been destroyed except for one - Octavius - and the most powerful of vampires has been unleashed. This sets off the ultimate horror - one of the Greystone Brothers has been turned, and his love for Kalina has turned into a destructive obsession. Now armed with an unspeakable power and thirst, he has sent Kalina and the other brothers who love and protect her a shocking threat. And he won't stop until Kalina is his....
| | | |
| --- | --- | --- |
| Title | : | Blood Burned |
| Author | : | |
| Rating | : | |
| ISBN | : | 9781597489430 |
| Format Type | : | Paperback |
| Number of Pages | : | 254 Pages |
| Status | : | Available For Download |
| Last checked | : | 21 Minutes ago! |
---
Blood Burned Reviews
EXCELLENT!!!! Kailin Gow does an impeccable job at describing the extent of emotions that Jaegar feels in his transition. I have found that when Kal and Jaegar/Stuart/Octavius speak via telepathy, it enhances the storyline considerably. They all feel each other's pain, joy, etc. This forms a stronger connection for the quad. I relished every word from start to finish. Can't wait until March for the next installment!

Of course I love this book and all the characters in PULSE. How could I not?

I think this one's going to be really good. Can't wait! I'm getting the first copy when it releases.

Blood Burned immediately grabs the reader as it picks up right where book two, Life's Blood left off – the cliff-hanger ending where Jaegar, Stuart and Aaron were being held captive by Malvolio. Jaegar is being forced to consume Kalina's Life's Blood, which will turn him from Kalina's friend and suitor into a very dangerous enemy who will stop at nothing until she is drained of all her Life's Blood or turned into a vampire.While the initial pages pull the reader into the story once again, the lack of movement of the storyline through the course of this book, until the last several pages, makes this a frustrating read. The majority of the story consists of Kalina's inner monologue as she flip-flops between what she wants and doesn't want, who she loves and doesn't love, and what she should or shouldn't do. And while in many books, this inner crisis can be tormenting in a good way, that is not the case here.The author, whose previous two books in the series introduced entertaining characters and an interesting plot, chose instead for the main character to wax poetic, redundantly, about who she is – whether human, half-human, vampire, half-vampire, or something other – and about times gone by – when she first met Jaegar, her time in Europe with Octavius, the simpler times when she was happily dating Stuart.Revisiting events from previous novels while reminiscing about the past along with a character can be enjoyable, but when it becomes a majority of the book, and is from a past that is just days, weeks or months previous in the life of the character, it feels disingenuous. In a series that is set to span five books, if there is not enough material to keep the story moving along, perhaps a shorter series would have been a better option.This series as a whole has its merits – even if this installment is lacking – with characters in constant peril, the jealousy inherent in a love triangle turned quadrangle, and a heroine whose feelings are torn between each of these men. And, for a young adult novel, this book has some rather graphic love scenes and coarse language making it edgier than some of the books in the YA universe.However, while the ideas and creativity are there, the book is riddled with not only grammatical errors (as were the first two), but numerous incorrect and unusual similes, metaphors and descriptive phrases.

WOW!! Okay excuse me while I try to wrap my head around all of this. If you know me or even follow me you must know my love of Kailin Gow. I am the biggest fan girl when it comes to her books. This one actually blew me away! There was so very much going on and so much that happened and I having such a hard time processing it!Kalina may be home but things are far from back to normal. She is back to trying to figure out who she is meant to love and trying to forget her one true love. I know confusing right. Well without ruining it for you completely, she knows who her heart and soul wants but that person doesn't seem to want her. Talk about torn and heart broken. That does not stop her from standing up for herself though. It amazes me that every time I start a new book Kalina becomes a little more independent.The Greystone brothers are still present even if they aren't all the same. By not the same I mean one of them was forced to drink a vial of Kalina's blood. In case you haven't heard of this series I wont tell you what that does but it isn't good. Not by a long shot. There is also the question of the feelings that each of the brothers have for Kalina. Will they be enough to keep them all from turning on her? It becomes the question of if love is really enough. Octavius is also back. *DROOL*. I will full out say that Octavius is the embodiment of all things masculine. I mean he beats basically every other man out (Chance from Fire wars is still #1). He is trying to defend Kalina and keep the danger away being the only remaining vampire from The Consortium of Vampires. He has lived many years and has a loyal following, is feared by many and wants nothing more than to just be with Kalina even if it isn't possible. This book was seriously the most intense one in the series thus far. Some serious change happened and some BIG shockers as well. Best hint you will get is that there is a big sacrifice and I had tears in my eyes and actually had to take a moment to regain my composure. I can't even express how much I love this fast paced, action packed series. Between the emotions that fly and the drama that goes down I am not sure if I am proceeding to book 4 anxious or excited.

I really like book 3 of the Pulse series. We finally get to find out a bit more about Kalina origin and I really think that way Ms Gow explained it is very original. That's not a theory I ever read about before. Also I really like how Kalina get even tougher. She is finally realizing what and who she is and she is fighting and boy without spoiling we can say the girl can kick butt!Now the love interests….you can say there is some steamy scenes that made me go 'wow' in good way of course. I'm glad this love pentagon turned into a triangle. Kalina is starting to realize the motives of some suitors and some dramatic circumstances is creating a new paradigm. Ms Gow also succeeded to do something only a few author managed before, she made me doubt about the Team I'm on. I'm a die hard Team Octavius but I have to admit that at the end of the book I was "Maybe…..is better for her" and it surprised me. Of course I have to complain that I didn't get enough sexy Octavius in that book but I guess we do have to give every vampire a chance lol *sigh*Now some spoilers please don't read if you haven't read the books yet. Okay?Last chance to stop reading…..Spoiler!! Concerning Jaegar I really liked him in the book ( of course I like him when he is a struggling psycho, maybe something is wrong with me) but how he tried to fight the dark side effect of the Life blood prove that he is deeply in love with Kalina. As his transformation as a human I think it only work to some extent is because even if she loves him, it's not deep enough, he is not THE ONE. I think if Octavius were to disappear he would be the one she should be with. She loves him enough for her blood not to be a curse but I think that THE ONE is Octavius (told you I was stubborn) I'm glad there is still a chance for Kalina and Octavius. Jaegar? Octavius? Only the future will tell and all I can say is that I can't wait to sink my teeth in book 4!! :)

To be honest I was a bit let down by BLOOD BURNED, the 3rd book in the Pulse series. I really loved the last book, LIFE'S BLOOD and was excited with high expectations after it's thrilling rollercoaster ride of action and romance. Unfortunately this third book fell short. It confused and sadden me that Kalina, our strong feisty heroin, who had come so far, grown so much, suddenly seemed like a different person altogether. To Gow's credit, there were still some great moments and twist in BLOOD BURNED, but they got lost a bit in the crazy muddle of her regular life. On one hand she was having all this drama play out in her head, internal strife, mental torture through telepathy by the damaged (and my favorite vamp, evil or not) Jaegar, denied by her true love Octavius, the lives of all who she cares for in danger.. and what does she do?.. Kalian goes to prom.. What?!.. yep prom. It just felt bizarre. Also there were some conversations with her brother that had me scratching my head. I'm hoping that in the fourth book, Kalian returns to her former self that had me on the edge of my seat rooting for her in LIFE'S BLOOD... one step back, two steps forward?.. fingers crossed. Like I said before, there was some great stuff amongst the disjointedness of BLOOD BURNED and Gow seemed to be getting the story back on track by the end. A little weary, but still confident in this series' potential, I look forward to greatness in BLUE BLOOD, book 4.

*May contain spoilers from previous books.Mal has captured Aaron and Jaegar, and even goes as far as forcing Jaegar to drink some of Kalina's blood that Mal has taken. Jaegar is no longer the man that Kalina once loved. Now, Jaegar is evil and has set his mind to drain Kalina. The thing that scares Kalina is that she is still attracted to Jaegar but still misses Octavius terribly. Stuart is there to comfort her, and she finds that she is the rock that she needs right now. With her emotions raging, she believes that there is still hope for Jaegar, but Stuart isn't as convinced. Will Kalina be able to survive without turning into a vampire by the thirsty fangs of Jaegar?I really am enjoying this series so far. I like that Kailin's books are fast paced. I don't like that there are so many love interests, but I have a really hard time considering that as a bad part of this series because Kailin has the ability to make me question which guy I like best. I find myself constantly wrapped up in the individual scenes with Stuart, Jaegar, and Octavius. I think I am leaning towards Jaegar or Octavius more after some scenes. I also think that there are a lot of similarities among them with subtle differences. I can't wait to see how this series unfolds and who Kalina will choose in the end.

By far the second book is my favorite so far, but this one is also good and worth a read. Blood Burned is very dark and continues the story of Kalina who's Life Blood not only attracts vampires but calls out to those in Octavius' line. The story begins with Jaegar having been forced to drink Life's Blood by Mal making him turn into a sadistic vampire obsessed with Kalina. Stuart is left to protect Kalina who is continuing to with life as normal as possible. One of my biggest problems with this story was that just as I fell in love with Octavius he denies his love for Kalina and makes her choose a brother. Granted it is out of his love for her in this impossible situation, but I still don't understand why he couldn't protect her just as well by her side. Jaeger finds Kalina but it wasn't hard she was back in Rutherford anyway. Kalina discovers more about the powers she holds as a carrier. Kalina also refuses to believe Jaeger is all bad. I did like that Kalina seemed to grow more self assured and into her own power.

I really like the idea behind these books but Kalina's back and forth teenage hormones are driving me crazy. I'm having a lot of trouble staying interested when one minute she loves Jaegar, then wants to love Stewart and is hopelessly, ceaselessly in love with Octavius the next. I understand the premise of Life's Blood and the call of it but seriously how can she not tell the difference between the call of her blood and her own heart and if was only because Octavius is all of their maker then wouldn't she love all the vampires in Octavius' army?. I can't wait for the end of this series just for the sake of her making a final freaking decision.Also, the errors are getting worse not better and it's getting to the point where I have to guess what the sentence means. Were any of these actually edited?

Can't miss this book in the Pulse series! Wow. Blood Burned is an incredible follow-up to Life's Blood and Pulse. My heart was in my throat when the book opens up with the worst. I love Jaegar, and he is downright beyond sexy in Blood Burned, especially when all his inhibitions are taken away. Blood Burned is about Stuart, too. I feel bad for him, but good because he finally acts on his feelings for Kalina. Kalina's heritage is revealed, and I get the feeling there is so much more to her. Blood Burned is full of emotions, action, and romance. Reading Kailin Gow's books is like watching your favorite television show. I love it, and you don't have to wait too long for the next book. If you are a Gow fan, this is one book you cannot miss!

Well... there's a lot I want to say, but then my review would totally be full of spoilers. I liked "Blood Burned", but I felt the same frustrations creep up that came in "Pulse".... however, that didn't really happen until near the end. Also, my frustrations were more directed towards Stuart and Octavious... I am really beginning to think that they are really just little boys than strong, vampire men... rather than Kalina. Kalina impressed me with her strength in this book-when she stops and thinks through her situation(s) she becomes centered and understands what needs to be done, rather than panic and go with her first instinct. She matured a whole bunch in this book, and I was very happy about that. I'll keep it in my favorites (like "Pulse") because I hate to break up a series.

The book was okay. Done.=D" 07/14 97.0% "Um it seems that everyone Kalina knows is getting bad. Everyone she loves turns bad and wants to kill her. This good boy/ bad boy is getting old." 07/14 87.0% "Aaron is a bad boy!!!! Yeah!!!!! But I the same mistake was done to Aaron, Not much of the characters is known. He pop up at the 3 book all of a sudden." 07/14 86.0% "For some reason I really dislike Octavius. I don't know why she loves this man. I am more drawn to Jaegar and Stuart. The authors mistakes was that she put Octavius almost at the end of the book. Another mistake that the author made was that Octavius life history wasn't written as much as the other characters."

This series is getting more interesting, but I am getting a wee bit tired of how there are so many love interests and she keeps changing who she is attracted to. Choose one or two, more than that is just too much. Also, it seems like the same things just keep on happening. Kill the bad guy please! You can bring up a new bad guy, but the bad vamp has to be able to be killed with the special rubies. I still like the books, but am just wishing for more of a story line sometimes and less of the same old thing. I am glad that new characters are being introduced, but I would like to find out more about them.

I really want to finish this series but there are a few frustrating points in these books. The plot and the characters are all amazing but I feel like throughout each book I'm going in circles; she finally chooses her true love then changes it again... and again... and yet again. A love triangle is cute, but only to a certain point, after that its simply too much. I love the books in general and really want to read the next but I also feel like its being dragged out; as soon as one problem is fixed another, very similar, one pops up moments later. It is a great read if you have patience.

Book three continues on perfectly from the ending in book two. Kailin Gow has woven suspense, and edge throughout Blood Burned taking us on a rollercoaster ride from the very beginning. Twists and turns that you would never have guessed and moments where you wander where its headed. Definelty unpredicatable by any means. I throughly enjoyed book three and eagerly now stroll over to my bookcase to start book 4 ;) A series that I unable to put down, and look forward to finding out whom Kalina truly loves.. and where her life is headed with the Greystone brothers and Octavius ..

This one is my favorite so far. Even at the end of the first book I was asking myself "What is all the hype about?". I liked it, but I didn't love it. A few chapters into book 2, and I started to get more into it. By book 3 I was reading as slow as I possibly could because I wasn't ready to say goodbye to the series...I can't wait for book 4!!!!!

Pulse gets better and better with this one. After escaping the most powerful vampire, Kalina goes back to Rutherford to protect her family. That's not enough though. Man, the tension between Kalina and Jaegar, Kalina and Stuart is so thick. There is an all-out battle, and then there's more. I think this just became my favorite book in the series.

Vampires every where!! Kalina = can't make up her mind, Jagger = psycho hot bad boy, Stuart = loyal & to sweet for his own good, Oxtavis ( to me, cause I just don't like him lol) = older male cougar. Been waiting on Vampire Series with the twist Gow has in her books, all I can say it's about time!!

The Pulse series got my teenage niece to read and it helped us bond. We both love this series and can't get enough. It's entertaining, fun, the characters are well-drawn out we know when they're not themselves. If you like Buffy, Vampire Diaries or anything vampire, you'll like this.

Another fast paced storyAnother fast paced storyhow fun! Can't wait for Blue Blood. What will Kailin and her loves get into next. Big brother, Justin is awfully understanding. The series is a fun read.

I absolutely loved this and having read the first three books in this series in the span of a couple of days, I can say that this is one of the most original Vampire-related plots I have ever read!!!I cannot wait for the next book. It comes out tomorrow right?

Getting better....I can see this series as a movie!

It's alright but the story just keeps draggin along

Once again this girl can't make up her mind and it causes problems for these men. Kalina needs to pick one and stick with it.

This book deals with Jaeger becoming more strong after consuming Kalina's blood which was taken forceully from her. and how Kalina deals with the three brothers and how to defeatJaeger.

This is one of those series that you just don't want to end!

Can't wait to read this one! From the amazing ending to book 2, I know there will be lots of Jaegar and Stuart.